Women and Little Girl Purses
Monkey Purses
Wallets and Bags


Women and little girl purse, wallet and monkey handbags are all available.
Fun Paul Frank Julius girls purses, kids coin purse and ladies wallets.
Julius the monkey will be happy to help you carry your stuff with style.
Paul Frank bag items can be sourced from here.

Paul Frank Julius Monkey


Paul Frank's Julius monkey is featured on rocking purses, wallets and handbags. Great for little girls and women of all ages, here's what we've found Paul Frank The Julius: zip coin purse, snap wallet, blue dome satchel, juicy apple square satchel, vintage candy satchel, break it vinyl satchel, break it all over print tote, vintage candy messenger, break it core tote in pink, black stripe tote bag, ivory stripe bowling bag, purple stripe satchel.
Amazon have a great range of Paul Frank monkey items here.
For personalized bags and wallets Campanella Creations can do it all, we'll a lot, a whole lot.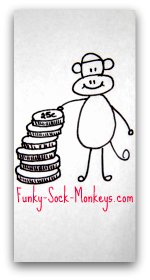 Some more cool sock monkey things to find: