Fun sock monkeys and sock animals to hug.
Where to buy sock toys - sock pal rabbits, mice, fish, cats, frogs, cows and monkeys - of course!
Paul Frank Julius monkeys and monkeys by Schylling Toys are great.


Sock Monkeys


Paul Frank puts a fun spin on the classic looking sock monkey doll, with Julius monkey dolls made with monkey face fabric in pink and blue.

Schylling Toys have some cute traditional looking sock monkeys and some mini baby sock monkey that stand just over 7" tall.



Multipet Sock Toys


Whether you want a small or larger pet toy, multipet have a couple of sock monkey pet toys that your pet will love to drag around, handcrafted from real socks so pets can have as much fun with their sock toys as we do with ours. You can check them out here.



Make Your Own Sock Toy

Learn how to make sock toys with free patterns and instructions for sock monkeys and sock elephants. You can make your own handmade sock toy from Rockford red heel socks or any other socks (you just need two). It is a fun sewing project for older kids, and a great craft project for adults when we are wanting to create a unique homemade toy for our loved ones.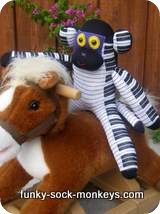 Sock Monkeys
If you are looking to find sock monkeys, Paul Frank has a collection of Julius Monkey toys and character heads.
17" Paul Frank Knitted Monkeys. The knitted monkeys are made in soft knit fabrics featuring a lovable embroidered sock face and body, available in:
pink
blue
chenille/beige
crochet/brown
chenille/pink
crochet/white
There are quite a few Paul Frank Julius toys available online.
Swing from Sock Animal Toys to Sock Monkey Gifts and Accessories