Sock Monkey Clothes


Sock monkeys are everywhere!
Fun sock monkey clothes, snugly sock monkey pajamas, cute sock monkey t shirts, comfy sock monkey slippers, adorable sock monkey costumes, funny sock monkey undies and more.
Monkey clothes are available for the entire family. Monkey clothes for baby, toddler, kids, men and women.
You can cover yourself from head to toe with monkey slippers, socks, pants, shirts, mittens and hats.



Funky Sock Monkey Clothes For Humans


Baby and Toddler size:

Baby bodysuits, tee shirts and bibs : Cool cotton and organic cotton long and short sleeve tee shirts and body suits and sock monkey bibs for baby.

Toddler monkey t-shirt : Cotton and organic cotton t shirts available in, ash grey, white, black, navy, red, royal blue, baby blue, daffodil yellow and pink.

Kid size: 
Boys and Girls monkey clothes : Cool clothes for kids. Funky sock monkey t- shirts, baseball tees, football shirts, sweatshirts and hoodies for girls and boys of all ages.


Woman Size:
Women's monkey t shirts and sweaters : Fun sock monkeys on t shirts and long sleeves made with 100% cotton. Sizes from small to plus size and maternity. Cotton and polyester blend sweatshirts and hoodies.

Women's sock monkey pajamas and other stuff: pajama sets and lounge pants, footed pajamas, panties, tanks, fitted tees, classic thongs, nightshirts and boy briefs.
Man size:
Men's monkey t shirts and sweaters : 100% cotton and organic cotton tees and long sleeves. Cotton and polyester blend sweatshirts and hooded sweatshirts.

Men's monkey underwear and sleep tees : Fun monkey boxers and tees for men. Cool monkey clothes, grab one of the sock monkey t shirts and some crazy underwear and you've got a set of groovy sock monkey pajamas.

Men's organic t shirt : Men's sock monkey organic t shirt range. Unique sock monkey designs on healthy Eco friendly clothing.
Funky Sock Monkey Clothes for Sock Monkeys

Sock monkey clothing for sock monkeys : make some clothes for yourmonkey, a cheerleader, pirate, cowboy, wizard, ballerina, a knitted hat.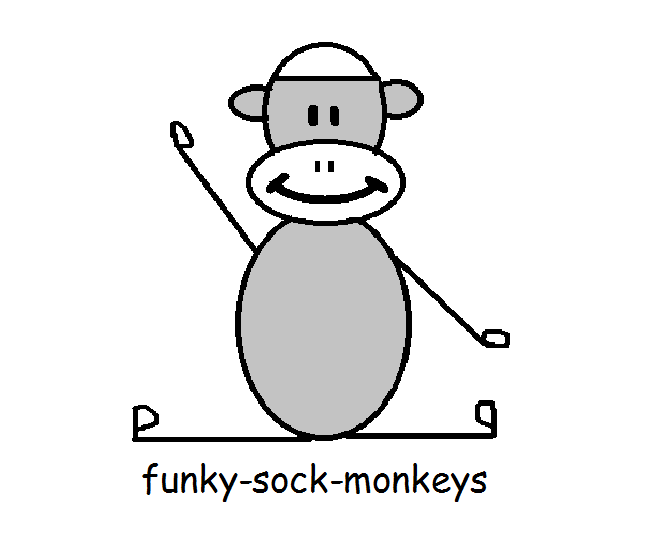 Lets swing on over to the online shop.
Red heel socks : Original Rockford red heel socks. The socks to use when you want to make traditional looking toys.

Slippers : Inspired by the original 1950s sock-monkey toy, these soft, cuddly slippers with adorable monkey faces keep feet warm and toasty. 

Sock monkey costumes : Super cute sock monkey costumes for kids and adults, includes a sock monkey hat. A fun nostalgic Halloween costume. 

Hats, mittens and caps : Toasty warm sock monkey hats (wool/nylon blend) and mittens (wool/poly blend) with poly-fleece lining. 100% brushed cotton monkey caps, one size fits all, literally hundreds of designs to chose from.
Swing from Sock Monkey Clothes to Home page