Fun sock monkey pajamas, women's flannel pjs, panties, tanks, fitted tees and lounge pants.
Cover yourself from head to toe with sock monkey sleepwear. Snugly monkey clothes for women.
Nothing beats having a soft pair of cozy pj's to slosh around in.
There sure is something comforting and relaxing about the day coming to an end and it being time to hop into some comfy sleepwear.
Paul Frank Pajamas
If you have a comfy pair of pj's occasionally it's great to lounge in them all day - it's good for the soul I reckon.
So, what do we have - a selection of sock monkey pjs for adults featuring Paul Frank's Julius sock monkey. He's so funny looking, Julius the monkey that is, not Paul Frank. The monkey prints are very cool and groovy. 

Women's Panties, Shorts and Tanks - Paul Frank character panties for women feature Julius with and without his heart shaped sunglasses in an all-over print in a red, white and light blue and Julius in colorful circles in an all-over print on a white background to name just a couple of print styles.
Soft, premium fabric women's sleep shorts are machine washable, have a covered elastic waistband with contrasting drawstring tie. Paul Frank Julius clothing includes cami and panty sets, ribbed tanks, racer back tees,and fitted tees.
Women's Lounge Pants and Footie Pajamas - Lounge pants have a covered elastic waistband with a drawstring tie. One piece zipper-closure footies have hand-warmer side pockets, gripper bottoms, and slightly elasticized ankle backs.


More sock monkey clothing: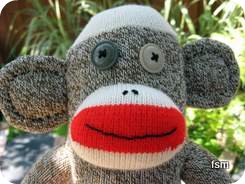 Swing from Sock Monkey Pajamas to Sock Monkey Clothes