Grab a socktastic sock monkey book featuring a lovable sock monkey toy.
Follow Rockford sock monkey dolls on exciting adventures in fabulous stories with wonderful pictures. Lots of sock monkey entertainment for hours of enjoyment.
Get cozy and cuddle up at night with a sock monkey toy and a sock monkey story.
Yes, sock monkeys love it when you choose a monkey book for their bed time story, it makes them feel all warm and fuzzy inside (it's that or the fact that they are filled with stuffing).

There are so many monkey books they include:
The Toys That Rescued Christmas. On Christmas Eve all the presents mysteriously disappear from beneath the Christmas tree. Things get complicated when Smuckey the sock monkey, a red sports car and a sensitive train fall into a trap set by toys from Christmas past......
Sock Monkey: Uncle Gabby. Upon returning home from the University where he has become a Master Poet dedicated to the Science of Un-naming objects the sock monkey embarks on a journey......
Tony Millionaire's Uncle Gabby. Uncle Gabby is eight inches tall, and is suffering from acute earwax build-up. His brain has a mind of its own and can wander off to greener pastures......

That Darn Yarn. This book contains two stories in one. On the right-hand side is a story about a sock monkey getting his foot snagged on a tack as he's going down the stairs. On the left-hand page is a story about Ann Louise finding a ball of yarn and beginning to knit a sock monkey. 
The Christmas Tail of Sampson the Silly-Looking Sock Monkey. Sampson, the sock monkey, asks the Christmas tree angel why Christmas day is so special. The angel's answer gives Sampson a reason to feel special......
The Glass Doorknob. The Sock Monkey and the other toys in the house marvel at the prismatic spectrum shining on the parlor floor. They notice that the dazzling colors are somehow emanating from the beautiful glass doorknob on the front door......
The Adventures of Tony Millionaire's Sock Monkey. Mischievous Uncle Gabby the sock monkey and his pal Drinky Crow are the heroes in this funny, and oddly endearing collection. Follow Gabby and Crow as they play matchmakers......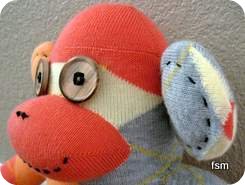 Swing from Sock Monkey Book to Home Page