Sock Monkey Book
Stuffed Red Heel Socks Are On The Move
Red heel socks come to life in this fun sock monkey book range. Rockford sock monkey characters are up to all sorts of things. Check out these active sock animals as they share some monkey love.

Some monkey books to enjoy:

Sock Monkeys: 200 Out of 1,863 In 1985 Ron Warren began collecting sock monkeys, those icons of generations that have been hand-stitched from a pair of red-heel work socks. Years later he met photographer Arne Svenson, who, intrigued by the obsessive nature and growing size of the collection, began with equal obsession to document one by one its more than 1,800 examples and result in this epic sock monkey book. 
10 Little Sock Monkeys Ten little monkeys swinging on a bar; two let go and didn't fall far......
Oscar: The Big Adventure of a Little Sock Monkey A sock monkey book about when Oscar's best friend, Susie Green, forgets to bring the key for her pet rabbit's cage to the pet show, he embarks on an adventure.
Sock Monkey in the Spotlight Boogie-woogie with Sock Monkey, the famous toy actor, in this hilariously wacky pair of stories.
Everything's Coming Up Sock Monkeys: The Art, History and Business of the American Sock Monkey. A catalog of children's stories, illustrations, graphics, and products built around this time-worn folk art toy.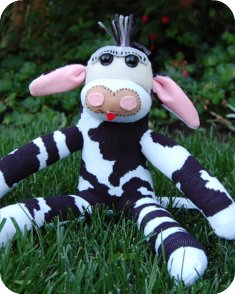 Swing from Sock Monkey Book 3 to Home page