Sock Monkey Instructions


Which is the best Sock Monkey Pattern Book?

There are a few different sock monkey instructions books available.
They give you great directions on how to craft your red heel socks or whatever sock you're cutting up, into lovable sock monkeys and other sock animals.
Red Heel Sock Toy Pattern Books


The Fox River 1992 Edition sock monkey pattern book was the updated edition of the Classic Sock Monkey Pattern Book. The 1992 edition has:

updated layout and design

updated pattern and sewing instructions for all patterns
full color photographs of finished samples of the most popular toys
instructions for over 50 other toys and clothing items
new toy designs for new sock monkeys
sock monkey hand puppet pattern
sock bottle cover pattern
Fox River has since produced another edition, the 2010 book has instructions for sock monkeys, sock dolls, puppets, clothing and other things as well.
So, which is the best sock monkey pattern book? Well, which ever one grabs your interest. Any book will do the trick. If you want some books to inspire some crazy, wacky creatures the selection below is a good start.
Sock Toy Making Books
Stray Sock Sewing is a book for making one-of-a-kind creatures from socks. It shows you how to turn your stray socks into adorable dolls! 
Stray Sock Sewing Too is an asian-flavored craft book that blends how-to projects with a whimsical touch.
Stupid Sock Creatures: For making quirky, lovable figures from cast-off socks giving you weird, wacky, and outrageous sock creatures to love.
Make Your Own Stupid Sock Creatures has all the basic how-to's and illustrated instructions.
Sockology by Brenna Maloney has sock sheep, bears, aliens and more. 16 wonderful fun ideas to be exact. 
Sock Doll Workshop is full of 30 delightful dolls and clothes to create.
Adorable Sock Dolls to Make & Love has basic instructions on how to choose socks, cut, sew, stuff, and sculpt sock dolls, angels, Santa and a snowman. Learn how to attach eyes, noses, and mouths, and paint a blush on the cheeks. Craft sock animals like a moose, bear, giraffe or cow.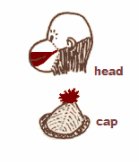 Swing from Sock Monkey Instructions to How to Make a Sock Monkey