You might want to try a Rockford red heel sock monkey kit if you are looking for fun sock crafts - they are available in both girl and boy monkey kits.
Sock craft and monkey craft to the max, with a stupid sock creature or two thrown in the mix!

So, where do you buy a sock monkey or sock doll kit from? Right here if you want to!



Rockford Red Heel Socks come with the pattern attached.
The Sock Monkey Kit 15 Inch by Curiosity Development This is a fun Sock Monkey kit already to go. Everything you need is in a kit.

Make Your Own Stupid Sock Creatures John Murphy's sock creations are here to delight. If you want to create a sock creature like no other you need this book. All you need is some time and a sense of humor. 
Very charming and irresistible John's sock creatures are here to inspire and entertain you. Crazy expressions, multiple eyes, tails and crazy shaped heads there a wide variety of characters to make.
Return of the Stupid Sock Creatures: Evolutions, Mutations, and Other Creations They're very fun and they are back again! This is a follow up book from Stupid Sock Creature. John Murphy has included 20 weird and wacky projects, some crazy-cute quadrupeds, two-headed beasts, and monsters. Projects are as simple as a one-sock monster all the way up to a four-sock creature. There is something for everyone. With fun and easy to understand instructions you'll have so much fun creating a wacky sock creature.
The directions for sock toys are generally simple and if you do not have a sewing machine it is OK, as these sock creatures can be completely handmade (it just takes a little longer).
Sock crafts are great for kids, children get to make totally original pieces of stuffed art.
Anything goes when it comes to being crafty with sock dolls. You can stick to a classic looking sock monkey, alter expressions on the face, dress in any clothes, add any accessories and make any animal or crazy, wild, weird creature that you can think of out of a sock.
Some kits contain red heel socks and some have other styles of socks.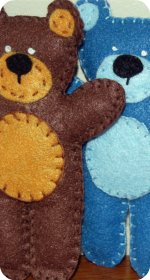 This photo is of the bears I made from the Peejay monkey kit. The kit contained all the felt and floss needed to make the brown bear. The brown bear was so cute that I just had to make some more in different color felt.






Tip: Whenever you buy a pair of original Rockford Red Heel Socks they include free sock monkey and sock elephant patterns on the packaging.
The patterns for the little felt toys in the sock animal kits make very cute little accessories. When I made Peejay sock monkey and his teddy bear all three of my boys wanted their own felt teddy. They stand about 6 inches tall, the felt teddies that is, not my boys.
Actually, another idea is to use green and red felt and make Christmas teddies, don't you think they would look really cute on a Christmas tree. I love homemade Christmas decorations for trees! Of course the teddy pattern could be used to make felt sock monkeys too - use brown or grey felt for the body, a white round mouth with a smaller red piece of felt in the center. Black stitching for eyes and mouth. Skip the tummy patch that the bear has but give your monkey white felt on the ends of his arms and legs.

Swing from Sock Monkey Kit to How To Make A Sock Monkey