I found some of the coolest looking sock monkey ornaments around.
These mini sock monkeys will look so homey hanging just about anywhere.
Definitely fun collectibles for the family.

Fun novel holiday decorations are what make the holidays feel extra unique and traditional. Of course the Christmas themed ones would be great during the festive Xmas holiday season.
Personalize your sock monkey ornaments by adding wording such as a name and a date so you'll have a lovely memory to look back on for years.
So, where do you buy these mini sock monkey decorations from......here.

Funky ornaments from our Funky-Sock-Monkeys shop are available online. 
For something a little different we have round and oval porcelain ornaments These can be used for all sorts of things, goodies for parties, weddings, showers, gift tags and what ever else you can think of. 

Each comes with a red ribbon ready for you to tie on to what ever it can get tied to.
They are lightweight, professionally printed and fun. You can use them for any suitable occasions.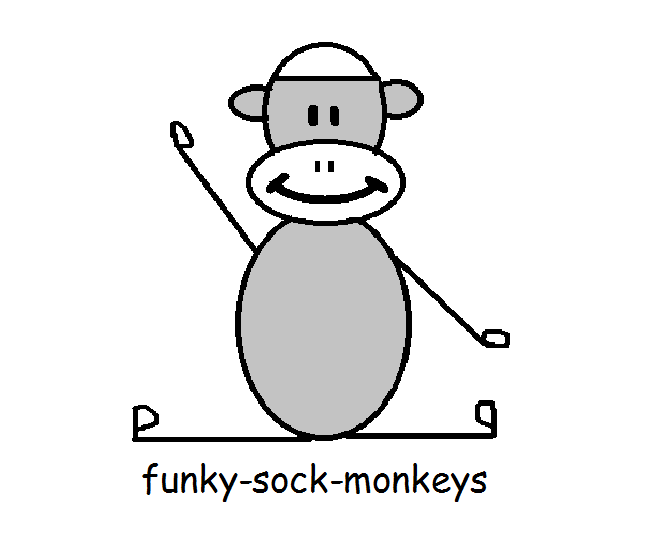 ---
The tradition in our family is to give our children one new special Christmas ornament each year. Grandma Ellen started this, with her children (my husband) and we have carried it on with our three boys.
We buy an ornament and then label each with their name and date in an inconspicuous place (underneath or on the back if possible) with a permanent sharpie marker. With a sock monkey or other soft fabric ornaments it's fun to embroider the kids initials and year.
Below is an embroidery I placed on a monkeys butt for my friend's daughter, the daughters name is Betty, no just kidding. It really was a great touch and personalized Sophie's monkey and made it super special for her.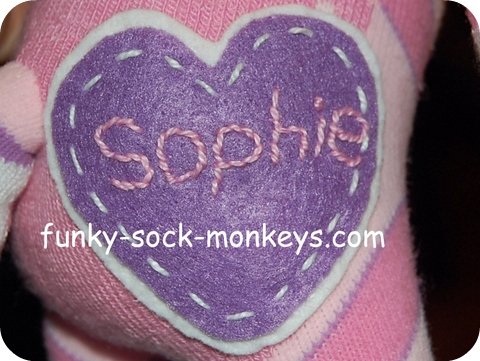 I total believe those little knitted collectible sock monkeys above are great value. Anyone who has tried to make a homemade miniature sock monkey would know, it's a lot of work to make a tiny sock animal toy.

It's crazy how long it takes and how fiddly it can be. To be able to buy unique looking red heel sock monkey decoration instead of making them runs right up my alley. 
I only tried to make a mini sock monkey once and once was enough for me. I am partial to those big squeeze-able ones.
Swing from Sock Monkey Ornament to Gifts and Accessories 
top of page