How To Make A Sock Monkey
And Other Crafts Projects


Funky Sock Monkeys is a super fun sock place where sock animals love to hang out. Find out what a sock toy actually is (if you don't know already), where to find and buy one of these amazing creatures and even how to make your very own stuffed sock pal.
You'll find free patterns and instructions on how to make your very own lovable sock monkey dolls, different sock animals, fun craft ideas and lots of other groovy monkey and sock stuff.
Find socks to add to your sock collection, either to wear or to make into some crazy sock creatures. Theres many styles and colors to choose from purple, blue, pink, striped, and many more.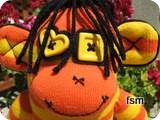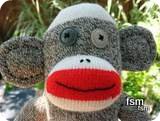 We're here to share ideas and inspiration with fun and easy craft projects and different ways you can add cuddly, soft monkeys and other sock toys into your family.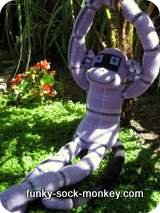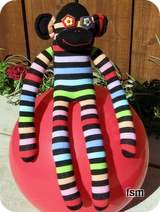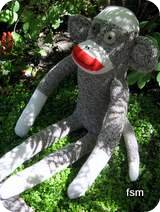 Many unique animals can be made by adjusting the basic monkey and elephant patterns: cats, dogs, cows, bears, zebras, giraffes, reindeer, aardvarks. Aardvarks? Yes, well the first elephant that I ever made looks more like an aardvark. It was a rough day!
If you are wanting a classic looking sock animal, you'll be needing Original Rockford Red Heel socks, otherwise you can use whatever socks you like.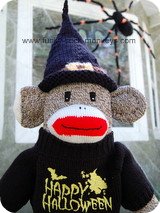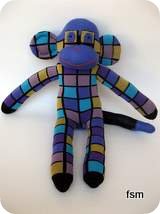 You can buy all sorts of monkey themed stuff nowadays: art, cards, fabric, books, clothes; slippers, pajamas, hats, bedding, pictures, dog toys, the list goes on and on.
So, all you need to get started is a pair of socks and a pattern, you can grab a free pattern from here or order yourself a pattern book. There are two pattern books choose from, 1) the "Original Red Heel" pattern book and 2) the updated version. Both are filled with heaps of patterns (over 50 in fact) for making different sock toys. The updated pattern book has color photographs of completed sock dolls.

Keep an eye out for this little guy, he pops in tips here and there.


Happy crafting and enjoy!


The Sock Monkey Blog keeps you up-to-date with all additions and changes to the funky-sock-monkeys.com Web site. Subscribe here.
Learn how to make a sock monkey and other cool sock animals by hand with these easy to follow patterns and step by step instructions. Buy red heel socks and sock monkey kits.
Sock monkey fabric: you want sock monkeys, you got it! Fun, bright, and ever so sock monkey-ish prints by moda, suitable for curtains, cushions, bedding, and many other funky monkey sewing projects.
Make yourself a genuine handmade sock monkey toy with original Rockford Red Heel Socks. The sock elephant and sock monkey instructions are included in the packaging. Available in brown, pink & blue.
Cute sock monkey pictures. Fun monkey images of different sock monkey doll toys. Also pics of sock elephants, sock cats, sock cows and more.
The coolest sock monkey knitting hat patterns. Toy hat patterns you can adjust to make any kind of sock monkey hat.
Designer Sock Monkey bedding sets and accessories. Baby crib bedding to king size monkey bedding for larger monkey lovers. Sheets, comforters, prints, memo boards, curtains and more.......
Cool sock monkeys for sale and other monkey things like ornaments, dog toys, hand puppets, wall clocks, mugs, kits and many more monkey merchandise. You can even adopt a monkey - a sock monkey toy.
Sock monkeys are everywhere! Fun sock monkey clothes, snugly sock monkey pajamas, cute sock monkey t shirts, comfy sock monkey slippers, adorable sock monkey costume, funny sock monkey undies and more
Lets party! Fun monkey party supplies for boys and girls parties, Ist birthday or a monkey baby shower. Cake pans to make homemade monkey cakes, decorations, favors, invitations, hats, and more.
Find the socks you're looking for by brand name: Acorn, Adidas, Burlington, Darn Tough, Dr. Scholls, Fox River, Gold Toe, Hanes socks, Injinji, Jobst, New Balance socks, Smart Wool socks, Sock Monkey
Buy a socktastic sock monkey book featuring a lovable sock monkey toy. Follow Rockford sock monkey dolls on exciting adventures in fabulous stories with wonderful pictures.
Contact Us at Funky Sock Monkeys.
Funky sock monkeys privacy policy.