Novelty Sock Monkey Socks


Sock monkey socks can be any socks you chose. Making sock monkey toys is just one of many fun sock craft ideas available for your socks.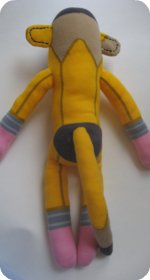 How to make this sock monkey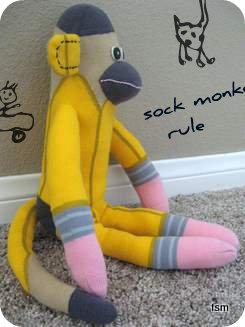 Things you need:
The modern sock monkey pattern
A pair of novelty pencil socks
White embroidery thread
Black embroidery thread
Pink embroidery thread
Two black buttons
Assemble your sock monkey as per the basic sock monkey pattern and directions.
Eyes: Cut two circular pieces of white felt and place under black buttons when stitching to the head with white thread.
Ears: Cut out the four ear pieces you need. Position the patterns to the way you'd like and sew in a rectangular shape leaving the opening very large. Stuff lightly.
Embroider with black thread and then stitch to the sock monkeys head.
Stitch on a mouth with the pink embroidery thread.
Attach arms and tail.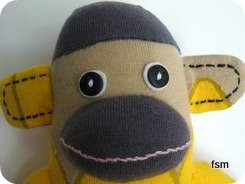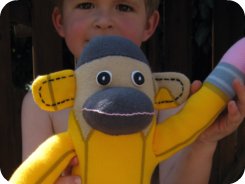 Mr Pencil sock monkey with his buddy the notebook sock monkey.


TIP: Pairing monkeys with the same theme is great fun. The pencil socks are fun and there is also a notebook looking sock available. They make a nice little pair. Ashi Dashi make these socks, they also create other fun, crazy socks and they are very high quality.
Swing from Pencil Monkey Socks to Sock Monkey Pictures