Sock Monkey Clothing
for a Sock Monkey Toy



I tracked down a fun sock monkey clothing range. The monkey clothes are designed to fit 14" small "Genuine Monkeez" sock monkey dolls.
Monkeys outfits I have seen about are a fireman, cheerleader
, pilot
, pirate, cowboy
, wizard, ballerina, Santa, banana sweater and cap set.


Genuine Monkeez
have a really nice selection of sock monkey clothes, they are very nicely made and ever so cute. Do we aware that all of the monkey outfits are designed to specifically fit 14" small Genuine Monkeez, but they may fit other sock monkey dolls of course that are of the same size.

Green Sweater and Green Cap
:
Keep your monkey warm with this yarn sweater and fabric cap set. The sweater has a yellow banana on the front.

Santa Coat with Hat:
Ho ho ho! Monkeys will love to celebrate Christmas in this red and white Santa suit. A great way to get your monkey into the holiday spirit. Made of fabric and magnet.

Ballerina Outfit:
Dress your monkey up to be a beautiful ballerina in this charming pink dress and ballet slippers.

Cheerleader outfit
:
Blue and white cheer leading outfit and pom poms. A sweet mascot outfit for sock monkeys.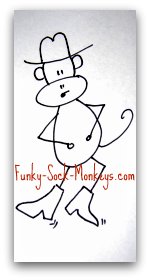 Cowboy outfit
:
Howdy! Sock monkey Cowboy outfit has a brown vest with red stars and black cowboy hat.

Fireman outfit
:
Dress your sock monkey as a fireman ready to come to the rescue in a red firecoat and matching helmet.

Sock monkey Pilot outfit
:
Ready for take off! Set includes tan pilot jacket and matching pilot hat.

Pirate Outfit:
Argh, land ho! Sock monkeys can set sail in this pirate red and white striped shirt and the black pirate's hat with skull and cross bones.


Wizard Outfit:
Abracadabra! Alakazam! Dress your sock monkey as a wizard in this magical purple cape and matching purple wizard's hat.



Swing from Sock Monkey Clothing to Sock Monkey Gifts and Accessories
top of page