Happy Birthday Monkey


How to make a Happy Birthday monkey crafted from a pair of Original Rockford red heel socks. Clothed in shorts, a B'day T-shirt and groovy party hat (clothing is store bought).


How to make this sock monkey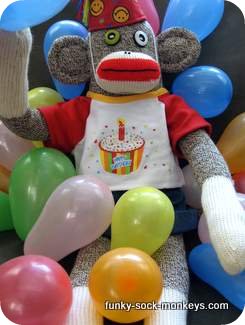 Things you need:
The modern sock monkey pattern
A pair of large Original Rockford Red Heel socks
Two buttons
Black embroidery thread
White embroidery thread
Make your monkey following the sock monkey doll pattern.
Eyes: Stitch on two buttons with white embroidery thread.
Ears: Cut large round ears, stuff and embroider with black thread, stitch to head.
With black embroidery thread stitch on the mouth and two nostrils.
Clothing: Even though the clothes are store bought, they are very cute and fit this fella well. There is even a hole in the back of his shorts for his tail to go through.
I got the monkey clothes from a local craft store but you could also look at toy stores as many carry dolls clothes which may be suitable to dress your monkeys in.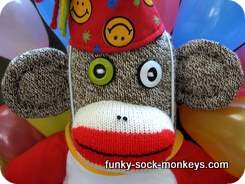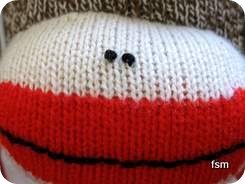 TIP: Store bought clothes are very convenient. If you are lucky enough to find teddy bear clothes, many have a hole in the pants for your sock monkey toy tail to go through.



Happy Birthday To You song (monkey version)
many of us have grown up singing these
Happy Birthday to you
Happy Birthday to you
You look like a monkey
And you act like one too
or
Happy Birthday to you
Happy Birthday to you
You smell like a monkey
And you look like one too





Swing from Happy Birthday Monkey to Sock Monkey Pictures