Wigwam Diabetic Socks Sock Monkey


How to make a sock animal out of thermal crew wigwam diabetic socks. They make a snugly sock monkey. The wig wam socks are so thick, great for sock crafts to make any type of sock animals.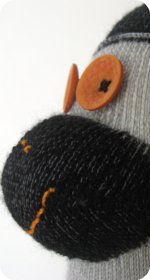 How to make this sock monkey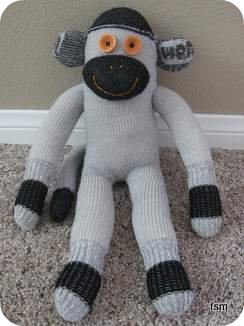 Things you need:
The modern sock monkey pattern
A pair of grey and black thermal wigwam socks
Two Orange buttons
Black embroidery thread
Orange embroidery thread
Follow the basic sock monkey pattern and instructions.
Eyes: Two large orange concave button eyes, stitched on to head with black thread.
Ears and Tail: Although the tail and ears are not stuffed, they are still well formed because of the thickness of the socks.
The socks are so thick in fact, they nearly didn't fit under the foot of my sewing machine.
If you couldn't fit a pair of super thick socks under the foot of your sewing machine it would just be a matter of hand sewing your little sock animal together.
Stitch a mouth from the orange embroidery thread and do two french knots for the monkeys nostrils.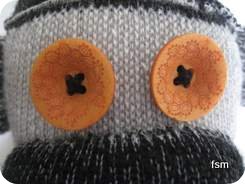 TIP: Making sock animals out of thick thermal wig wam socks is great because the socks are so sturdy and thick which make it so easy to stitch together.





Swing from Wigwam Diabetic Socks to Sock Monkey Pictures
top of page